TRIAL PRESENTATION SPECIALISTS: EQUIPMENT RENTAL

LCD Projectors
 LCD projectors work just like your computer monitor except that they project images on a large screen for superior visibility. When dimming the lights isn't feasible, you need a projector that is brighter than the ambient lighting in the room. The brightness factor is measured in "lumens" (candle brightness). Tip: We recommend using an LCD projector of 5000 lumens or greater.
Extra Monitors
If the courtroom is oddly shaped or is very large, you may want extra monitors on the bench, the plaintiff's table, the defense table and even at the witness box if there is no clear line of sight to the main jury screen. We recommend 22″ flat-screen monitors. Anything larger may create line-of-sight concerns. Any smaller, and details may be difficult to see on the screen.
Document Cameras
–  Projecting regular paper, objects or transparencies.
–  Outputing to as many screens as you require.
–  Superior brightness compared to old-fashioned projectors (when the right LCD projecter is used), which is critical when lights can't be dimmed.
–  Very user-friendly
Projection Screens

The rule of thumb is the bigger the better.  In a small, crowded courtroom though, we recommend using low-profile projection screens that can be pushed flat up against the wall, saving precious floor space around counsel's table. When it is necessary to set up the LCD projector in the gallery, a rear-projection screen saves space too.
Switchers

A switcher is required when you have multiple video sources and/or multiple monitors. It ensures that the image on the trial laptop, ELMO, SMART Board or other device is just as bright and vivid as that of the source computer – without image degradation. A switcher can accommodate multiple digital sources letting you easily share presentation equipment and associated costs with opposing counsel.
Interactive White Boards

Electronic interactive white boards, when connected to a laptop computer and an LCD projector allows the attorney to digitally annotate electronic evidence that is displayed on a white panel similar to a dry erase board. Using a cordless pen the attorney simply writes, draws or highlights onto the projected image. The image can then be saved and printed. Interactive whiteboards range in size from 45 to 104 inches diagonally.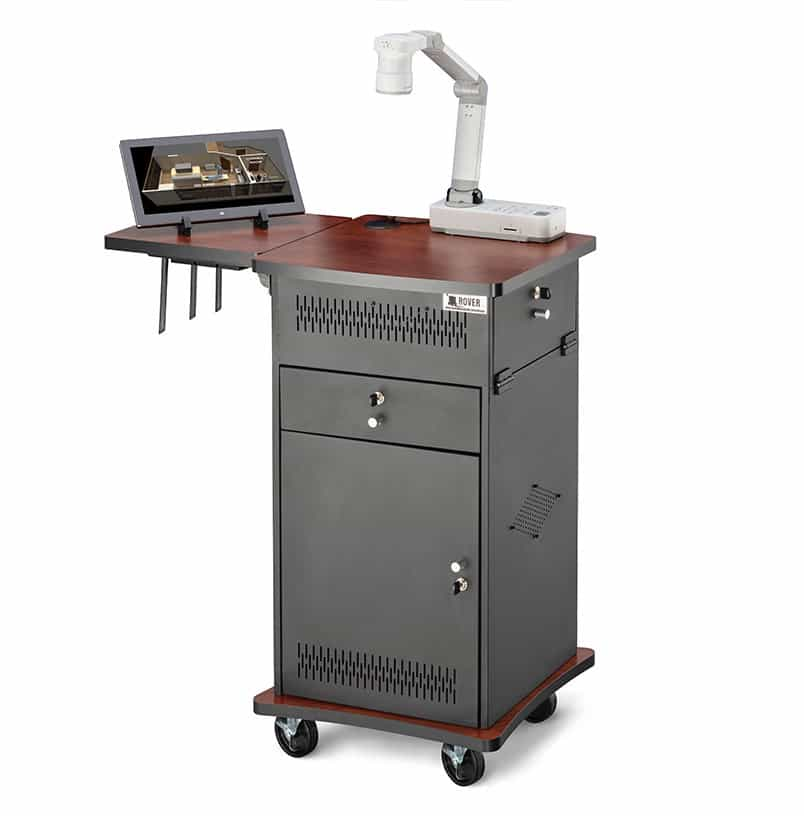 The Rover ST Mobile Presentation Module
MGM created the solution. With the Rover-ST, a tech-savvy attorney using an iPad with TrialDirector software can connect their screen display to the house monitors in the courtroom as easily as a more hands-on attorney can plug in a document cam and use a pencil to point to contested language in a contract.
Touch Screen Monitors
When connected to a computer and a projector, a touch screen monitor allows the attorney or witness to annotate overtop of the of the digital evidence that is displayed on that monitor. Using a stylus or finger the attorney or witness can simply write, draw or highlight right on the screen.